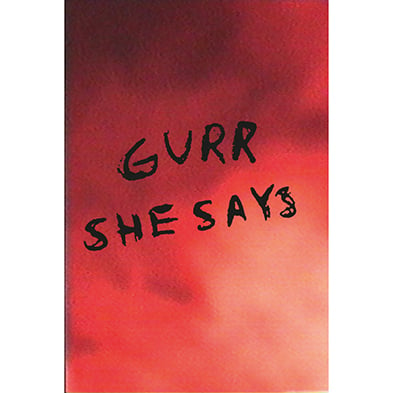 GURR She Says CASSETTE EP
$

7.00

/ Coming Soon
---
RADICAL EMPATHY RECORDS NUMBER 7
Gurr return with a new 7 track EP "She Says" released in April 2019. Recorded with New York producer Mathew Molner (Sunflower Bean, Friends) and Berlin based producer Tobi Kuhn at the UFO studios in Berlin.
"We met Sunflower Bean at Latitude Festival in UK and asked them who produced their album "Human Ceremony" as we liked how it sounded retro and modern, they connected us with Mathew and we brought him to Berlin to record with us" says Andreya Casablanca... "After 'In My Head' was recorded all in analogue we definitely wanted to have a little bit more room for the production in these songs. We were adding guitars, small synth lines and sounds after laying down the basic tracks."
The writing of the EP was heavily influenced by the big transitions in the lives of Laura Lee and Andreya Casablanca in the 12 month period after the release of 'In My Head', which can be heard in the fake highs of optimism of tracks such as "Of Hollywood" and "Bye Bye", the melancholia of "She Says" and "Hush" and the angst of Middleton Mall but musically the band draws inspiration across genres, from contemporary dream pop wonders Beach Fossils to psychedelic classics such as The Velvet Underground.